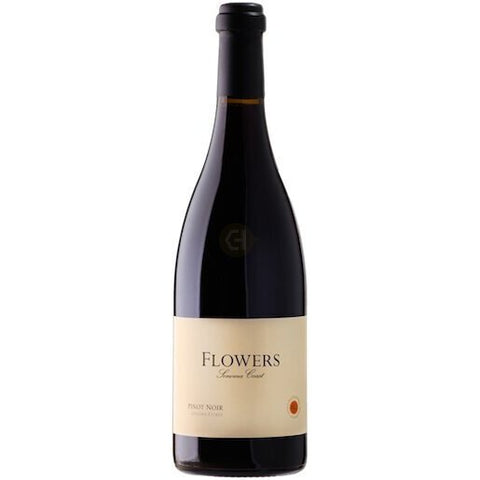 Five Towns Wine & Liquor
Flowers Pinot Noir Sonoma Coast
WHY WE LIKE IT - Iconic Cali Pinot.
TASTING NOTES - Inviting and expressive aromas of bright red cherry, and raspberry are combined with hints of savory ground clove spice and graham cracker. Nuances of graphite and sea salt bring another dimension that come together with a bright acidity driving a long, lively finish.
PRODUCTION NOTES - Grapes were harvested in the early morning hours to ensure the fruit arrived at the winery at cool temperatures. Clusters and individual berries were carefully hand-sorted before being fully destemmed to fall uncrushed into the fermenters. After a cold soak for approximately 6 days at 50°F, the loose berries were fermented using native yeasts in small open-top fermenters. The wine was left on the skins for an average of 20 days. The must was pressed using a traditional basket press, settled overnight and gravity fed into French Oak barrels for cellaring. The wine was aged 11 months on light lees before racking once and blending just before bottling.
PARK PLACE SOMMELIER PAIRING - Pair with roasted/grilled meats with an herbal/savory preparation, hearty stews & sauces and tomato-based sauces & stews. Try with Fennel-Garlic Pork Roast.


Product Size Chart
Size: 750ml
Country: United States
State: California
Region: Sonoma County
Dominant Varietal: Pinot Noir